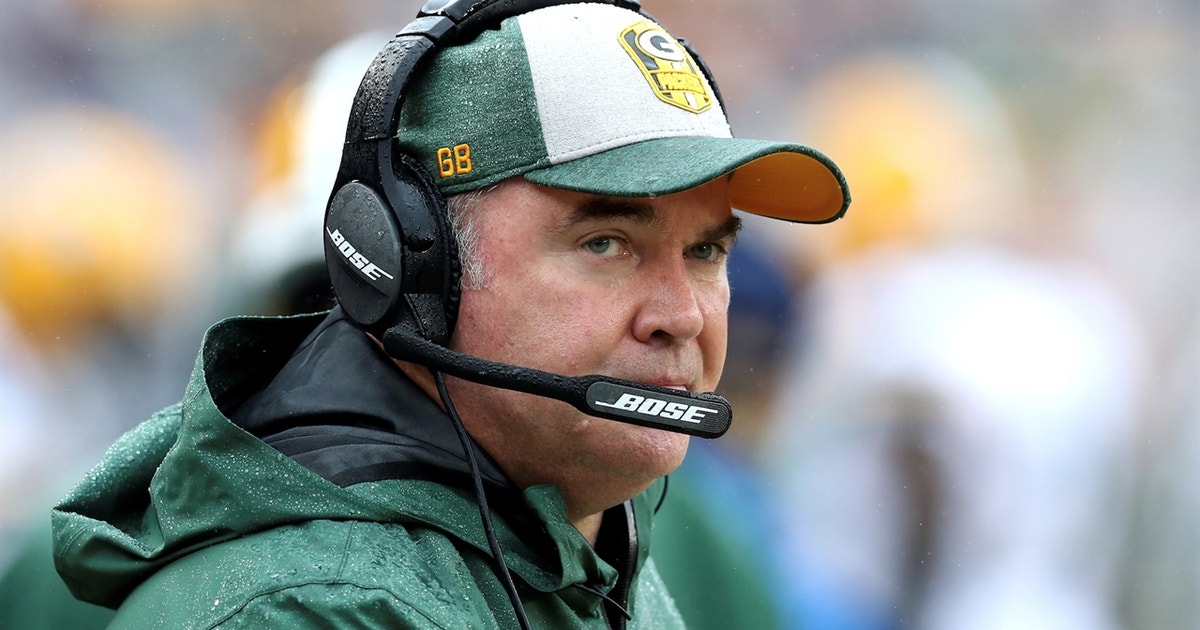 Following an ugly 20-17 loss to the lowly Arizona Cardinals on Sunday afternoon, longtime Green Bay Packers head coach Mike McCarthy was fired[1]. McCarthy experienced a great deal of success during his time in Green Bay, going 125-77-2. The Packers won double-digit games eight times during McCarthy's thirteen year tenure and hoisted the Lombardi Trophy once. However, after a disappointing 2017 campaign that saw Green Bay finish third in the NFC North with a 7-9 record, expectations were much higher this season. Alas, Sunday's loss dropped the Packers to 4-7-1, meaning the Packers will need to run the table just to end 2018 with a winning record. As one of the most prestigious franchises in the league, Green Bay is in uncharted territory–with one more loss, they'd clinch back-to-back losing seasons for the first time since the 1990 and 1991 campaigns that saw them go 6-10 and 4-12, respectively.
In a statement released by the team following the move[2], team president Mark Murphy said, "The 2018 season has not lived up to the expectations and standards of the Green Bay Packers. As a result, I made the difficult decision to relieve Mike McCarthy of his role as head coach, effective immediately." As the second-longest tenured head coach in Packers history, McCarthy was given plenty of opportunities to learn from his mistakes and turn the team around. An inability to adapt coupled with the unimpressive 10-8 playoff record make it surprising that McCarthy lasted as long as he did. Football is definitely a team sport through and through, but one lone Super Bowl appearance with Aaron Rodgers at the helm of the offense is also mind-blowing.
I've been calling for the firing of McCarthy for a while, and although I feel for his family during this time period, the separation was a long time coming. It's become abundantly clear over the years that McCarthy was holding the Packers back from their highest possible potential. With Rodgers on the back-end of his Hall of Fame career, the Packers could no longer afford to wait around. I'm extremely excited for the Green Bay fan base and am very intrigued to see who Murphy and general manager Brian Gutekunst decide to bring in as the next head coach of the organization. One thing is for certain–the Green Bay head coaching vacancy will be the most attractive in the league this off-season.
References
1. Clapp, M. (2018, December 03). Packers fire Mike McCarthy after embarrassing loss,      name A̶a̶r̶o̶n̶ ̶R̶o̶d̶g̶e̶r̶s̶ Joe Philbin interim head coach. Retrieved December 3, 2018, from https://thecomeback.com/nfl/packers-fire-mike-mccarthy-after-embarrassing-loss-name-a̶a̶r̶o̶n̶-̶r̶o̶d̶g̶e̶r̶s̶-joe-philbin-interim-head-coach.html
2. Cohen, M. (2018, December 03). Michael Cohen: How and why the Packers parted ways with Mike… Retrieved December 3, 2018, from https://theathletic.com/690167/2018/12/02/michael-cohen-did-disconnect-with-aaron-rodgers-fuel-mike-mccarthys-dismissal/