by: Ryan Waldis
Over the next 30 days (March 1st through March 30th), I'll be previewing each of the 30 MLB teams in reverse order of the 2017 league standings. The series will conclude on March 31st, when I'll be releasing my predictions for the 2018 season. With that said, let's jump into the 26th team preview of the series, featuring the Washington Nationals.
Quick Facts
Manager: Dave Martinez (1st season)
2017 Record: 97-65, 1st in NL East
Playoffs: Lost NLDS to Cubs (3-2)
Run Differential: 147
Top Position Player: Anthony Rendon (6.0 WAR)
Top Pitcher: Max Scherzer (7.1 WAR)
2017 Review
There are three guarantees in life: death, taxes, and the Nationals not getting past the NLDS. Since relocating from Montreal to the nation's capital in 2005, the Washington Nationals have made the playoffs four times, all of which have come in the previous six seasons. In each of those four appearances, the Nationals entered the postseason as the NL East champions, winning at least 95 games. In each of those four appearances, the Nationals lost in the NLDS. In three of those four appearances, they lost in five games. It's not because of a lack of talent. In 2017, the Nats were fourth in the league in OPS (.782) and sixth in ERA (3.88). For one reason or another, that talent never prevails in October. The same held true in 2017.
In true Washington fashion, the club lost Game One against the Cubs 3-0. Stephen Strasburg allowed just two runs (neither of which were earned) in seven innings, striking out ten while walking just one. Kyle Hendricks, meanwhile, allowed just two hits over seven innings, while Carl Edwards Jr. and Wade Davis shut the door over the next two innings. In Game Two, it appeared as though it would be more of the same. After seven and a half frames, the Cubs held a 3-1 lead. In the eighth inning, everything changed. With one on and one out, Bryce Harper sent a pitch from Edwards into the stands, knotting the game up at three. With two on and still just one out, Ryan Zimmerman hit a three-run shot off of Mike Montgomery, giving the home team a 6-3 lead that they wouldn't relinquish. Heading to Chicago, the Nationals managed to tie the series up at a game apiece.
Game Three was almost a mirror image of Game One. Max Scherzer tossed 6.1 innings of one hit, one run ball while contributing seven punchouts. Jose Quintana and the Cubs pitching staff, however, allowed just one run, which came in the top of the sixth via a double by Zimmerman. The Cubs scored a run each in the seventh and eighth, which proved to be enough to give Chicago a 2-1 lead in the series. The Nationals responded with a shutout of their own in Game Four, blanking the Cubs 5-0. Four of the runs came in the eighth inning on a grand slam by Michael Taylor with two outs.
Game Five featured the most offense of any game in the series. Anthony Rizzo gave the Cubs an early 1-0 advantage in the top of the first on an RBI groundout. The Nationals responded in the bottom of the second via a solo home run by Daniel Murphy and a three-run shot by Taylor. Chicago answered in the ensuing frame, plating two runs. They proceeded to score five more runs between the fifth and seventh frames. The Nationals scored four of their own between the sixth and eighth innings, but it wasn't enough as they lost the game 9-8 and the series 3-2.
Offense
Let's get it out of the way now—Matt Wieters was one of the worst catchers behind the plate last season. His -7.5 adjusted FRAA ranked 101st out of 110 backstops, while his -8.0 Framing Runs was 103rd. This is normally the part where I'd say, "However, he was at least passable at the plate," but Wieters wasn't any better offensively, either. He hit to a line of .225/.288/.344 with 10 home runs, producing the worst wRC+ (62) of his career. The strikeout and walk rates of 20.2% and 8.2% were passable, but overall Wieters was a major negative in all aspects of the game. He hurt the Nationals more than he helped them in 2017.
At the age of 32, lifetime National Ryan Zimmerman had a renaissance season. Posting the best wRC+ of his career (138), Zimmerman slashed .303/.358/.573 while cranking a career-best 36 home runs. His 26.5% HR/FB rate represented a 13 percent increase over 2016 and a 12 percent increase over his career average. He made more hard contact (40.4%) than ever before, and cut his soft contact rate down to 14.1%. The -5.3 UZR wasn't ideal, but it was palatable considering Zimmerman's performance at the plate.
There was a time when Daniel Murphy was a solid, not spectacular infield option. Since signing with the Nationals during the 2015 offseason, Murphy has become a very valuable offensive weapon. In 2017, Murphy hit .322/.384/.543 with 23 home runs and a wRC+ of 136. The overall numbers may have fallen off slightly due to his batted ball profile—his hard contact rate (35.7%) represented a three percent decrease while his soft contact rate (16.7%) went up by almost four percent. Meanwhile, his walk (8.8%) and strikeout (13.0%) rates went up by almost three percent. The -3.1 UZR was actually an improvement over the -6.9 mark he posted in 2016.
In a trade that still to this day is a little mind-blowing, Trea Turner was sent over to the Washington Nationals as the "player to be named later" from the Padres in a three-team deal that also included the Rays. Despite suffering a wrist injury, Turner still managed to accumulate 447 plate appearances in 2017, hitting to a line of .284/.338/.451 with 11 home runs and an astounding 46 stolen bases. He struck out 17.9% of the time while walking 6.7%. The 0.8 UZR he posted at short was the best grade of his career. It's easy to forget that he's only 24 years old.
After a down season in 2015 when he only played in 80 games, most people expected Anthony Rendon to bounce back. To his credit, the third baseman has definitely returned to providing consistent production on both the offensive and defensive end. 2017 was the best season of Rendon's short career; he slashed .301/.403/.533 with 25 home runs and seven stolen bases. He walked (13.9%) more than he struck out (13.6%) and ultimately finished with a wRC+ of 142. Rendon was perhaps even better at the hot corner, where the UZR of 13.6 that he posted ranked third among all qualified fielders.
The big piece in the Nationals outfield is, obviously, Bryce Harper. He was well on his way to an MVP season before a knee injury derailed his fantastic pace. In 492 plate appearances spanning 111 games, one of the best players in baseball put up a triple-slash of .319/.413/.595 with 29 home runs, a 20.1% strikeout rate, and a 13.8% walk rate. The 156 wRC+ that Harper posted was the second-best total of his career, and the .416 wOBA represented a 73 point increase over 2016. He was still solid in the outfield per his 2.6 UZR, a grade that fell off considerably from the 8.7 he finished with in 2016.
Michael Taylor had a surprising season for the Nats. The 10.1 UZR he posted in center field was one of the best marks in the league, but Taylor's always been solid in the field, so that wasn't shocking. More shocking was the .271/.320/.486 slash-line, the 19 home runs, and the 105 wRC+ that he posted. There's reason to believe that Taylor will experience some regression in the future, though. The .363 BABIP is definitely not sustainable for a player like Taylor, and a player striking out in 31.7% of his plate appearances usually isn't ideal.
Wilmer Difo and Adam Lind each accumulated over 300 plate appearances for Washington in 2017. Difo was a little more effective with the leather than the bat. In 473.1 innings at shortstop, the utility player posted a 3.6 UZR. At the dish, he hit an admirable .271/.319/.370 with 10 stolen bases, albeit with a wRC+ of just 76. Long time Blue Jay Adam Lind was much better offensively, finishing with a 122 wRC+. He hit to a line of .303/.362/.513 with 14 home runs, a 9.3% walk rate and a 15.6% strikeout rate. In close to 480 innings at first base and left field, he posted a -3.3 UZR.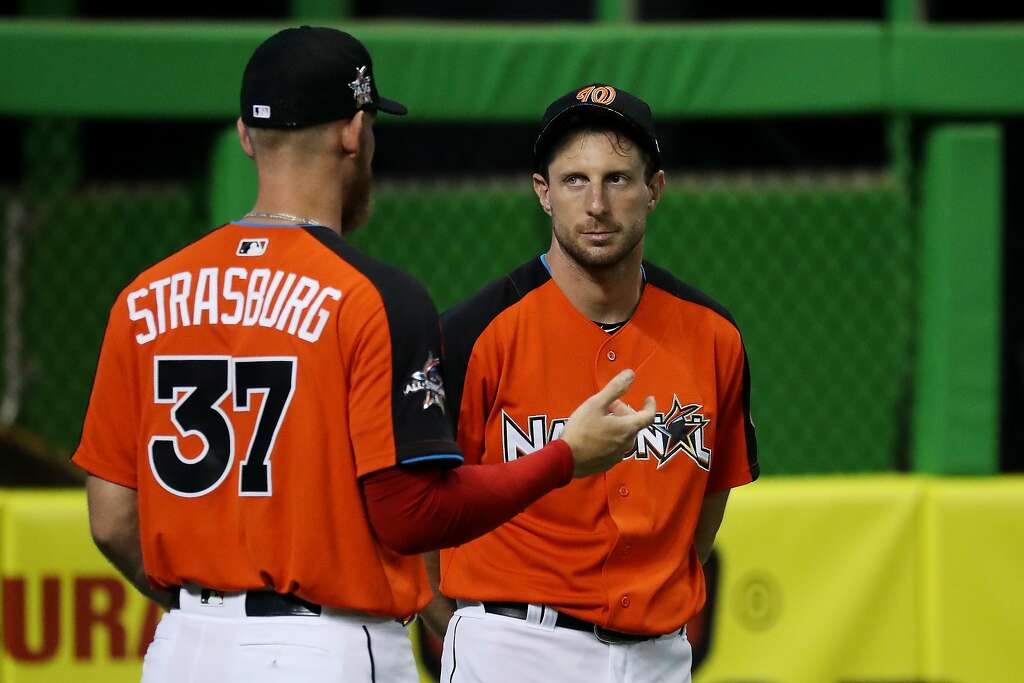 Pitching
The Washington rotation pitched to a 3.63 ERA, which was the fourth-best mark in the league. Not surprisingly, Max Scherzer led the way for the Nats. The right-hander has been nothing but elite since signing with the Nationals during the 2014 offseason. The former Tiger and Diamondback finished with an ERA of 2.51 and a FIP of 2.90. The 34.4% strikeout rate was one of the top marks in baseball, and he paired it with a solid 7.1% walk rate. Scherzer allowed 22 home runs over 200.2 innings, and he reached the 30 start plateau for the ninth consecutive season. Scherzer is as good as they come, and at 33 years of age still showed no signs of slowing down.
It's sometimes easy to forget that Stephen Strasburg made his debut almost a decade ago. He dazzled the major league fanbase throughout the summer of 2010 and looked primed to become one of the best pitchers in the league for a long period of time. Unfortunately, injuries happened, and while Strasburg has typically been phenomenal when healthy, he's had issues taking the mound consistently. He's reached 30 starts just twice in his career and has topped the magical 200 inning threshold just once. He failed to reach both of those milestones in 2017 but was still effective in the 28 starts he did make. He tossed 175.1 innings of 2.52 ERA/2.72 FIP ball. The strikeout and walk rates of 29.1% and 6.7% were solid and the right-hander allowed just 13 home runs all season. If you could guarantee a full season, Strasburg would instantly become a top-five arm.
Gio Gonzalez had one of his best seasons in a while in 2017, posting an impressive 2.96 ERA. However, it's pretty likely that he outpitched his peripherals. The southpaw finished with a FIP of 3.93 and an xFIP of 4.24. While those numbers obviously aren't awful, they indicate a pitcher that was pretty lucky. Gonzalez posted a 22.7% strikeout rate which wasn't bad, but the 9.6% walk rate was a bit unsightly. Gio also posted a strand rate of 81.6% which is far above any percentage he's posted before. He mainly helps a team succeed via his durability (at least 31 starts in seven of the past eight seasons) and his tendency to keep the ball in the yard (career HR/9 rate of 0.76).
The rest of the rotation wasn't entirely impressive. Tanner Roark was the best of the rest but he came back down to earth after a surprising 2016 campaign that saw him post a 2.83 ERA and 3.79 FIP. Last season, those numbers rose to 4.67 and 4.13, respectively. The strikeout and walk rates reminded roughly the same, but his HR/FB rate shot up by four percent while his soft contact rate decreased by roughly seven percent. The righty allowed 23 dingers in 181.1 innings, and overall wasn't as effective as he's been in the past. So, which Tanner Roark is the real Tanner Roark—2016 or 2017? The answer: probably something in the middle. Former Padres prospect Joe Ross struggled, but he battled an elbow injury twice over the course of the season, so it's not fully fair to say that Ross was at fault for his poor numbers. Edwin Jackson was not good.
The one bad aspect of the 2017 Nationals was definitely their bullpen. They finished 23rd in the league with a combined 4.41 ERA, which was the worst mark among playoff teams. In 473.2 frames, the Nats notched 445 strikeouts and walked 165. Some of the better performers:
Sean Doolittle (left-hander): 30 appearances, 30 innings, 2.40 ERA/2.76 FIP, 31 strikeouts, 8 walks
Matt Albers: 63 appearances, 61 innings, 1.62 ERA/3.40 FIP, 63 strikeouts, 17 walks
Enny Romero (left-hander): 53 appearances, 55.2 innings, 3.56 ERA/3.86 FIP, 65 strikeouts, 23 walks
Brandon Kintzler: 27 appearances, 26 innings, 3.46 ERA/3.93 FIP, 12 strikeouts, 5 walks
Ryan Madson: 20 appearances, 19.2 innings, 1.37 ERA/1.07 FIP, 28 strikeouts, 3 walks
Matt Grace (left-hander): 40 appearances, 50 innings, 4.32 ERA/3.96 FIP, 31 strikeouts, 18 walks
Offseason Recap
It's at least a little peculiar that the Nationals weren't a tad more active during the offseason. Considering that their contention window is rapidly closing (if it hasn't already closed), you'd think the Nationals would be a bit more keen to pull the trigger on some deals to improve to team. As it is, there was not one notable addition for the Nationals. They signed Matt Adams and resigned Howie Kendrick, but those moves don't really move the needle. For a team with a bullpen that was as bad as it was a season ago, you'd think they'd acquire at least one of the bigger names on the market. Instead, they'll have to hope for a lot of bounce backs.
The most notable departure was Jayson Werth. While he's definitely been declining for several years, Werth will definitely hold an important spot in Nationals history. Choosing not to re-up with the Phillies after the 2010 season, Werth signed on with the Nationals. These were the same Nationals who had just completed seasons where the final records were 59-102, 59-103, and 69-93. Similar to what I said about Jose Bautista and the Blue Jays, Werth was a big reason why the team finally entered the world of contention.
All Additions: Matt Adams, Tommy Milone, Reid Brignac, Miguel Montero, Joaquin Benoit, Jeremy Hellickson
All Departures: Jayson Werth, Matt Albers, Joe Blanton, Stephen Drew, Adam Lind, Jose Lobaton, Oliver Perez
2018 Outlook
Best Case: The Nationals win the NL East, if for no other reason than simply by default. Wieters still isn't good and Taylor regresses, but the rest of the lineup is solid. Zimmerman stays healthy and produces again, Murphy is as consistent as ever, and Rendon proves he can post numbers like he did in 2017 year in and year out. Turner becomes one of the best players in aseball, while Harper and Eaton prove to be a nice outfield duo. Led by Scherzer and Strasburg, the rotation is solid once again, and the bullpen bounces back. The NL East title is their third straight, and in what might be Harper's final go-around in the nation's capital, the Nationals finally get to the NLCS.
Worst Case: Wieters still isn't good and Taylor regresses, but the rest of the lineup is solid. Zimmerman can't manage to stay healthy and produce like he did in 2017, but the rest of the starters pick up the slack. Having Murphy, Rendon, Turner, Eaton, and Harper in the top five of your lineup is a nice luxury to have. The rotation is a bit of a question mark, especially when Strasburg goes through his seemingly yearly injury scare. Scherzer is still elite, though. The bullpen shows no signs of improvement. It's hard to envision the Nationals missing the playoffs or even not winning the division, but not getting past the NLDS at least once during Harper's tenure will be a colossal failure. Surprise, surprise: they still don't get over the hump in 2018.
PECOTA Projected Record: 89-73, 787 RS, 710 RA