by: Ryan Waldis
Over the next 30 days (March 1st through March 30th), I'll be previewing each of the 30 MLB teams in reverse order of the 2017 league standings. The series will conclude on March 31st, when I'll be releasing my predictions for the 2018 season. With that said, let's jump into the 17th team preview of the series, featuring the Tampa Bay Rays.
Quick Facts
Manager: Kevin Cash (4th season)
2017 Record: 80-82, 3rd in AL East
Run Differential: -10
Top Position Player: Kevin Kiermaier (5.1 WAR)
Top Pitcher: Alex Cobb (2.4 WAR)
2017 Review
The Rays bounced back a rough 2016 campaign and finished just one game under .500 in 2017. The Rays featured an offense that was in the bottom half of the league in terms of OPS, finishing 20th with a .739 mark. It was the pitching staff that truly impressed, finishing the season as a top-10 unit with a cumulative ERA of 3.97, which placed them 8th in the league. Going into 2017, the Rays were kind of polarizing. Some people thought they'd be a potential dark horse playoff team if everything went right, while others thought they'd have another sub-80 win campaign and finish towards the bottom of the division. In the end, Tampa Bay was right in the middle of those projections.
The AL Wild Card race was fun last year. You know the story by now: after a win against the Twins on September 5th, the Rays found themselves just 2.5 games back of the Angels for the second Wild Card spot. With 22 games left, could the Rays potentially make a run and make the playoffs for the first time since 2013? No! After that win, Tampa Bay proceeded to go 3-8 over an 11 game stretch, and after a loss to the Cubs on September 19th they found themselves 5 games out only 11 games to play. The course of events the Rays experienced is pretty similar to what the previous three AL West teams experienced too—of those 11 games, the Rays let up five or more runs five times, while scoring two or less runs six times.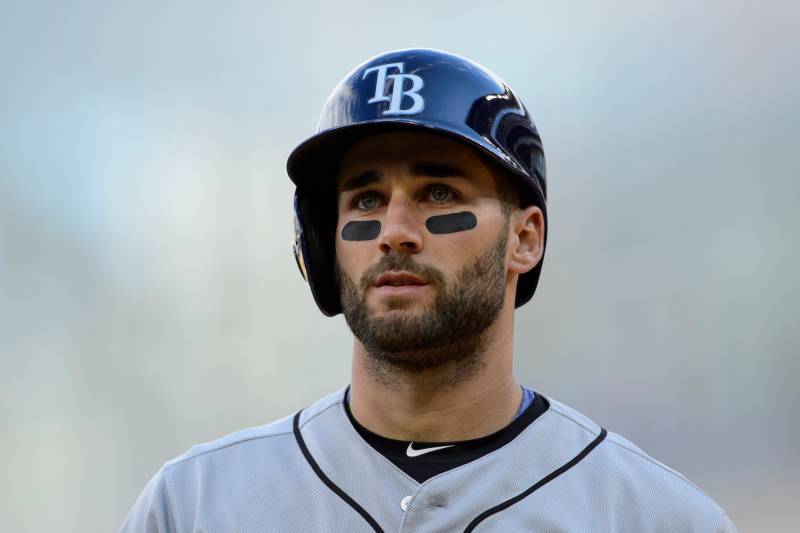 Offense
The Tampa Bay catching duties were split between Derek Norris and Jesus Sucre for a while until former National Wilson Ramos returned from a torn ACL in the middle of the season. Ramos regressed after his great 2016 season, but that was expected. The backstop still managed to slash .260/.290/.447 with 11 home runs, finishing with a wRC+ of 92. The BABIP of .262 was roughly 20 points lower than his career average and his walk percentage was almost two percent lower than his career norm, so Wilson's final numbers could have perhaps looked a little better than they actually did. Ramos wasn't phenomenal defensively; he finished with a 0.1 Framing Runs grade, but his adjusted FRAA of -3.9 ranked 93rd among 110 qualified catchers.
After several years of people expecting a breakout, Logan Morrison finally proved those people right in 2017. The first baseman hit to a line of .246/.353/.516, cranking a career-high 38 home runs (his previous high was 23) and posting a wRC+ of 130. In 601 plate appearances, the former Marlin and Mariner (he's only played for nautical-based teams in his career), finished with a strikeout rate of 24.8% and an even better walk rate of 13.5%. LoMo even graded out positively in the field, playing to a 1.2 UZR in the 1,077.2 innings he logged at first base.
Former Mariner Brad Miller was coming off of a 2016 season that saw him hit .243/.304/.482 with a career-high 30 home runs. He heavily regressed in 2017, finishing with a triple-slash of just .201/.327/.337 en route to the worst wRC+ (83) of his career. Miller only hit nine homers last year, which was more in line with his career averages. His ISO (.136) feel by nearly 100 points, and his strikeout rate (27.0%) jumped by a little over two percent. However, the infielder did manage to post a career-high walk rate (15.5%) which helped to slightly salvage his OBP.
The playing time at shortstop was essentially split between Tim Beckham and Adeiny Hechavarria. The former number one overall pick, Beckham played well in the field for the Rays, posting a 2.6 UZR in the 607 frames he played at shortstop. He wasn't terrible offensively, either, where he hit .259/.314/.407 with what was at that point a career-high 12 home runs. The strikeout rate spiked (31.9%), but so did the walk rate (7.0%). In any case, he was traded to the Orioles, whereupon Hechavarria eventually took over after a trade from the Marlins. The infielder offered a modest .257/.289/.411 slash-line, but his value came with the leather, as he posted a 3.5 UZR in 664 innings at shortstop.
Lifetime Ray Evan Longoria experienced the worst offensive season of his career in 2017. The third baseman hit to a line of .261/.313/.424 and posted a career-worst 96 wRC+. He did manage to hit at least 20 home runs for the fifth consecutive season, and the strikeout and walk rates were fine (16.1% and 6.8%), but Longo seemingly lost a step at the plate, causing some people to throw around the word "decline." He did post a 3.2 UZR at the hot corner in the 1,240 innings he played there, but the main positive was that he played in at least 156 games for the fifth straight year, which is a nice accolade after you hit the wrong side of 30.
Due to an injury to their best outfielder in Kevin Kiermaier, the Rays essentially used four main outfielders in 2017. When he wasn't injured with a fracture in his hip area, Kiermaier was once again a valuable member of the team. He slashed .276/.338/.450 with a career-high 15 home runs and a solid 112 wRC+. He also managed to swipe 16 bases, which in turn exhibited his 20/20 potential. Known as one of the best defensive players in the game, Kiermaier posted a UZR of just 2.8, which was a major fall off from his previous three seasons. Corey Dickerson's overall line of .282/.325/.490 with 27 home runs might look appealing, but when you take a closer look the former Rockie regressed as the season went on. Take a look at his monthly OPS throughout the course of the season:
April: 1.015
May: .975
June: .827
July: .701
August: .699
September/October: .596
He struck out seven percent more in the second half than he did in the first half, his ISO fell off by almost .100 points, and his BABIP fell from .361 to .302.
Steven Souza had the best offensive season of his career, posting a wRC+ of 120. The outfielder hit 30 balls out of the yard and contributed an overall slash-line of .239/.351/.459. He cut his strikeout rate by five percent (29.0%) and increased his walk rate by seven percent (13.6%). While he won't hit for a high average, the other aspects of his game are definitely appealing. Mallex Smith received 282 plate appearances in 2017, slashing .270/.329/.355 with 16 stolen bases and a wRC+ of 88, a four percent improvement over 2016 when he was a Brave. He played all three outfield positions for the Rays in 2017, receiving an even UZR grade in left field, a -0.1 grade in center, and a 0.2 grade in right.
Lucas Duda was traded from the Mets to the Rays in an attempt to add some punch to the Tampa Bay lineup. To his credit, he did hit 13 home runs, but there's about where the positive contributions ended. His slash-line of .175/.285/.444 was ugly and he struck out 31% of the time. Part of that could be attributed to an extremely low .173 BABIP, but regardless Duda was pretty underwhelming in his time with the Rays outside of the power he contributed.
Pitching
If the Rays were going to bounce back in 2017, their young pitching staff was going to have to be the reason why. As stated earlier, they were able to become one of the better staffs in the entire league. The starting rotation was definitely impressive, posting a combined ERA of 4.08—9th lowest in the bigs. Chris Archer made 34 starts and finished with an ERA of 4.07 and a FIPof 3.40. The strikeout rate of 29.3% was nice, as was the relatively low walk rate of 7.0%. Still, Archer's season wasn't without concern. He didn't prove that he has the arsenal of a top tier big league starter. His wFB, wSL, and wCH were -3.6, 16.9, and -3.1. The 28-year-old essentially had a phenomenal slider, a solid fastball, and not much else.
Alex Cobb was able to make the most starts of his career, taking the mound 29 times and tossing 179.1 innings. He finished with a 3.66 ERA and 4.16 FIP, posting strikeout and walk rates of 17.3% and 5.9%. He wasn't over-powering by any means but the fact that Cobb was able to take the mound every fifth day was the most important aspect of his season. Blake Snell made 24 starts and finished with an ERA/FIP/xFIP line of 4.04/4.19/4.56. Having said that, he performed much better in the second half of the campaign. The young southpaw pitched to a 3.49 ERA and 3.56 FIP while increasing his strikeout rate (23.7%) by four percent and decreasing his walk rate (8.0%) by six percent. Jake Faria made a great first impression, starting 14 games and finishing with a 3.40 ERA/4.14 FIP. You'd maybe like to see the 8.7% walk rate be a little lower, but regardless the 24-year-old showcased a quartet of solid pitches in his rookie season—the pitch values for his fastball, slider, curveball, and changeup were -2.0, 5.3, 0.7, and 2.9.
The other two arms that made double-digit starts for the Rays weren't entirely effective. Jake Odorizzi had his worst season as a full-time starter. In 28 starts, the one-time Royal pitched to a 4.14 ERA and 5.43 FIP. He let up a career-high 30 home runs in just 143.1 innings, and the 21.0% and 10.1% strikeout and walk rates weren't ideal. Matt Andriese, meanwhile, started off the 2017 season strong before suffering an injury. After that injury he wasn't really the same—he posted a 3.54 ERA/4.67 FIP in the first half and a 6.84 ERA/5.56 FIP in the second half.
The Tampa Bay relief corps finished 8th in the league with a cumulative 3.83 ERA. In 545.2 innings, the group notched 511 strikeouts and 202 walks. Former Oriole Tommy Hunter made 61 appearances and finished with a 2.61 ERA and 3.07 FIP. The right-hander struck out 64 batters while walking 14. 22-year-old Jose Alvarado was solid in limited innings as well. The southpaw made 35 appearances (29.2 innings) and pitched to a 3.64 ERA and even better 2.55 FIP. Alvarado had 29 strikeouts and nine walks. Former Marlin Steve Cishek had a nice run after being traded from the Mariners. The 31-year-old made 26 appearances for the Rays, tossing 24.2 innings of 1.09 ERA/2.14 FIP ball. The righty stuck out 26 and walked seven.
For what it's worth, Alex Colome had 47 saves. More importantly, though, the Rays late inning man provided Tampa Bay with 66.2 frames, a 3.24 ERA/3.37 FIP, 58 strikeouts, and 23 walks. Chase Whitley's FIP (3.56) was better than his ERA (4.08) as the 28-year-old notched 43 strikeouts while walking 16. Danny Farquhar provided 35 solid innings, pitching to an ERA and FIP of 4.11 and 4.24, respectively. He struck out 33 batters but walked 22 which isn't ideal. Sergio Romo proved he wasn't washed up, pitching well after a rough stint with the Dodgers. The 1.47 ERA and 2.96 FIP were definitely a welcome sight. Finally, Brad Boxberger was solid in his 30 appearances, finishing with an ERA of 3.38 and a FIP of 3.43.
Offseason Recap
The Rays had an interesting offseason, adding both younger talent and older veterans alike in an attempt to make a run at a Wild Card spot in 2018. The biggest addition for Tampa Bay was Christian Arroyo, who was acquired in a trade with the Giants. Arroyo will be counted upon to not only provide production at some point this season but also to become a focal part of the next young Rays core that will keep the team competitive for a while.
The biggest departure (obviously) was Evan Longoria. Longoria was the face of the Rays and had been with the organization through both the good times and the not-so-good times. While his production tailed off in 2017 perhaps indicating the beginning of a decline, it's still always upsetting to see the face of your franchise traded away.
All Additions: Christian Arroyo, Joey Wendle, Denard Span, C.J. Cron, Anthony Banda, Daniel Hudson, Carlos Gomez
All Departures: Evan Longoria, Peter Bourjos, Steve Cishek, Alex Cobb, Lucas Duda, Tommy Hunter, Logan Morrison, Curt Casali, Brad Boxberger, Chase Whitley, Jake Odorizzi, Steven Souza, Corey Dickerson, Colby Rasmus
2018 Outlook
Best Case: The offense succeeds despite not really having any pure power bats anymore. Christian Arroyo lives up to his top prospect billing, while Matt Duffy comes back and posts intriguing numbers. Kiermaier stays healthy and reaches the 20/20 mark, while Carlos Gomez and Denard Span hold down the fort in the corner outfield spots. The loss of Cobb doesn't hurt as Nathan Eovaldi steps in and becomes a great middle-of-the-rotation arm. Archer, Snell, and Faria form one of the top starting pitching trios in the league while the bullpen is strong once again. The Rays flirt with a win total in the high 80s and manage to get back to the playoffs for the first time since 2013.
Worst Case: The Rays offense (even without Longoria) is extremely inconsistent. The outfielders hold up their end of the bargain, but the entire infield struggles at the plate which in the end holds the team back. The pitching staff still performs up to par, although they experience more ups and downs than expected. Snell and Faria don't stall out but they don't take the next step that many were expecting, while Archer completely tanks, ruining his trade value. The bullpen is still fine, but it isn't as good as it could be. The Rays finish with a win total in the mid-70s, wondering what could have been had the offense been just a little better.
PECOTA Projected Record: 83-79, 710 RS, 693 RA