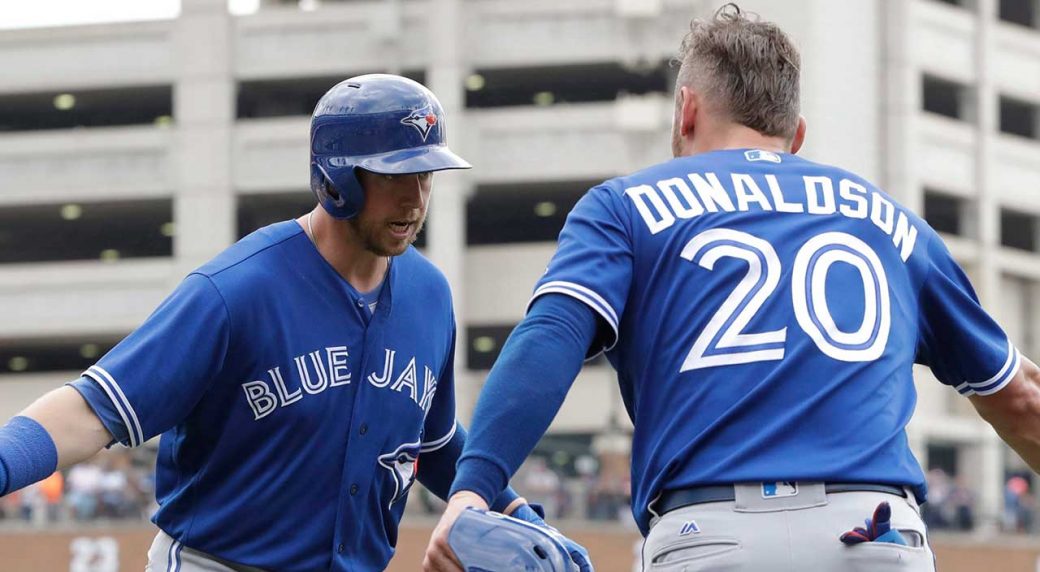 by: Ryan Waldis
Over the next 30 days (March 1st through March 30th), I'll be previewing each of the 30 MLB teams in reverse order of the 2017 league standings. The series will conclude on March 31st, when I'll be releasing my predictions for the 2018 season. With that said, let's jump into the 12th team preview of the series, featuring the Toronto Blue Jays.
Quick Facts
Manager: John Gibbons (6th season)
2017 Record: 76-86, 4th in AL East
Run Differential: -91
Top Position Player: Josh Donaldson (4.8 WAR)
Top Pitcher: Marcus Stroman (5.8 WAR)
2017 Review
The Blue Jays fell back down to Earth in 2017 after making two consecutive ALCS appearances the previous two years. Toronto's total of 76 wins was their lowest since 2013. You remember that year: the Blue Jays had an extremely active offseason, acquiring names like Jose Reyes, Mark Buehrle, Josh Johnson, and R.A. Dickey in hopes of contending for a postseason position. That team severely underperformed and finished 74-88, which was good for 5th in the AL East. 2017 wasn't much better; the offensive prowess that the team became known for over the past several seasons vanished, as the Blue Jays finished 25th in OPS (.724). The pitching staff was in the middle of the pack, but it couldn't compensate for the team's woes at the plate.
Toronto had an awful start to the campaign, losing nine of their first 10 games. They finally got their act together and went 7-8 over the next 15 games in April, but an 8-17 start essentially doomed them. There was a stretch when the Jays went 20-10 from April 29th to May 31st, but even that wasn't enough as the team still found themselves under .500 as the calendar turned to June. It's no coincidence that their only winning month was May, as they scored 148 runs in 28 games which was by far their best offensive output of the season.
Offense
In some aspects, backstop Russell Martin had an okay season in 2017. He cut his strikeout rate by five percent, he increased his walk rate by nearly two percent, and per wRC+ he was league average at the plate. His 4.3 adjusted FRAA was 22nd among catchers, while his 5.5 Framing Runs was tied for 18th. Having said that, the veteran was limited to just 91 games which was his lowest total since 2010 when he was a Dodger. This led to a decreased home run total—the 13 home runs Martin hit marked the first time since 2014 that he didn't have at least 20 in a season. At the age of 34 and after having caught for as many years as has, the word decline was definitely thrown around.
Justin Smoak had been tabbed for a breakout for several years leading up to 2017 and typically performed below the expectation bar that had been set. That changed last season as the first baseman slashed .270/.355/.529 with 38 home runs en route to a career-high 132 wRC+. Smoak finished with a career-high .259 ISO but also benefitted from an improved approach at the plate—a year after posting a 32.8 percent strikeout rate, the former Mariner lowered that number to 20.1%. He even did okay in the field; in the 1,300 innings Smoak logged at first base, he graded out positively, finishing with a 1.7 UZR.
Darwin Barney experienced regression in almost every aspect of his game in 2017. He hit just .232/.275/.327 with six home runs, an ISO mark under .100, a strikeout rate (17.7%) that jumped by two percent, and a walk rate (5.0%) that decreased by two percent. All of this culminated in an unsightly 58 wRC+, his worst figure since 2013 with the Cubs. He wasn't even as valuable defensively as he was in 2016—he graded out negatively at second base and in left field and posted UZR's below 1.0 at shortstop and the hot corner.
Ryan Goins was somehow allowed to make 459 plate appearances in 2017, the most of his career. The lifetime Blue Jay slashed just .237/.286/.356, and while the nine home runs were nice to see, the .278 wOBA and 69 wRC+ were not appealing. It might be even more shocking that Goins was allowed to play 670.1 innings at shortstop last season. He finished with a -4.7 UZR, which was third-worst among shortstops who logged at least 650 innings at the position. He was ahead of just Erick Aybar and Tim Anderson, which is not the kind of company you want to be in.
Former Athletic Josh Donaldson posted a 149 wRC+ in 2017, which was his lowest mark since 2014. That's not a knock on him, but it just goes to show how dominant the third baseman was in his first two seasons as a Blue Jay. Donaldson cranked 33 home runs while posting a walk rate of 15.3% and a strikeout rate of 22.4%. The overall slash line of .270/.385/.559 was still impressive, and had it not been for an injury that limited him to just nine games in April and four games in May, Donaldson's final numbers might have been even better.
When two-thirds of your outfield is comprised of players who are 34 and 36 years old, your offense as a whole will probably struggle at least slightly. This was the case in 2017 for the Blue Jays, who struggled to get positive contributions from their outfielders. Steve Pearce was brought in after a strong performance with the Rays but was limited to just 92 games. He wasn't particularly effective in those 92 games, either, hitting to a below-average line of .252/.319/.438. The strikeout rate jumped to 19.5% while the walk rate dropped nearly four percent. Jose Bautista couldn't bounce back from a rough 2016, hitting just over the Mendoza line with a .203/.308/.366 line in 686 plate appearances. The outfielder was part of the Toronto resurgence earlier in the decade, but age clearly caught up to him. He hit just 23 home runs, his strikeout rate spiked at 24.8%, and the walk rate fell off by four percent to 12.2%. The other outfielder of note was Kevin Pillar. He has 20/20 potential but doesn't do much else at the dish; he posted a wRC+ of 85 in 2017 and has never finished with a mark higher than 94. He was mainly in the lineup for his glove—the 6.0 UZR he posted was fifth among center fielders.
While he was never going to fully replace the hole in the lineup that Edwin Encarnacion left, Kendrys Morales was expected to be a positive contributor for the Blue Jays in 2017. He hit 28 home runs, but that was about it as the DH struggled to a .250/.308/.445 triple-slash and a below average 97 wRC+. He still walked roughly seven percent of the time, but the 21.7% strikeout rate represented a two percent jump from 2016, and a five percent jump from 2015.
Pitching
Pitching in the AL East has always been a difficult task which is why it was somewhat surprising to see the Blue Jays finish 14th in the league with a cumulative ERA of 4.42. The starters also finished 14th in the league with an ERA of 4.57. The young Marcus Stroman led the way for the starters, making 33 starts and tossing over 200 innings. He pitched to a 3.09 ERA and 3.90 FIP, finishing as Toronto's 2017 WAR leader. He posted a better ERA in the second half of the season (2.84) than the first half (3.28), and the increased GB% (which jumped three percent) and decreased FB% (which dropped over five percent) could have been a possible reason. J.A. Happ also had a solid campaign, pitching to an ERA/FIP/xFIP line of 3.53/3.76/3.94. While the walk rate remained consistent, Happ's strikeout rate increased by two percent, and he induced ground balls four percent more than in 2016. In the 25 starts the former Phillie and Astro made, Happ was reliable if nothing else.
Marco Estrada was coming off of two solid seasons, and there were some who thought his performance was unsustainable. Naturally, Estrada hit a wall in 2017, pitching to a 4.98 ERA and 4.61 FIP. His LOB% decreased yet again, going from 79.2% to 75.8% to 71.9% over the previous three campaigns. The walk rate has also increased each year since 2015, and the 1.50 HR/9 that Estrada posted in 2017 was not ideal. Veteran Francisco Liriano was not particularly effective in 18 starts, owning a 5.88 ERA and 4.73 FIP. He won a World Series ring with the Astros, though, so his season wasn't all bad. Joe Biagini made 40 appearances in 2017 including 18 starts. He was much better coming on in relief; as a starter, he pitched to a 5.73 ERA and batters hit .277/.332/.451 off of him. Compare that to the .223/.310/.339 line he allowed as a reliever, which led to a much more passable 4.26 ERA.
Toronto's bullpen was also in the top-half of the league. They placed 15th with a 4.21 ERA, striking out 636 (4th highest) while walking 212 over 596.2 innings (3rd highest). The quintet of Roberto Osuna, Ryan Tepera, Dominic Leone, Aaron Loup, and Joe Smith led the way for the Jays. Osuna struck out 83 while walking just nine, finishing with a 3.38 ERA and even better 1.74 FIP. Tepera made the most appearances on the team—73—and pitched to a 3.59 ERA and 3.75 FIP, striking out 81 and walking 31 over 77.2 innings. The 25-year-old Leone posted a 2.56 ERA and 2.94 FIP in 70.1 innings (65 appearances), notching 81 punch-outs and issuing 23 free passes. Southpaw Aaron Loup was second in games with 70 and tossed 57.2 innings of 3.75 ERA (3.66 FIP) ball. Loup struck out 64 batters and walked 29. Joe Smith provided 35.2 strong frames before being traded at the deadline to the Indians. The 11 year vet finished with a 3.28 ERA and 2.32 FIP, striking out 51 while walking only 10.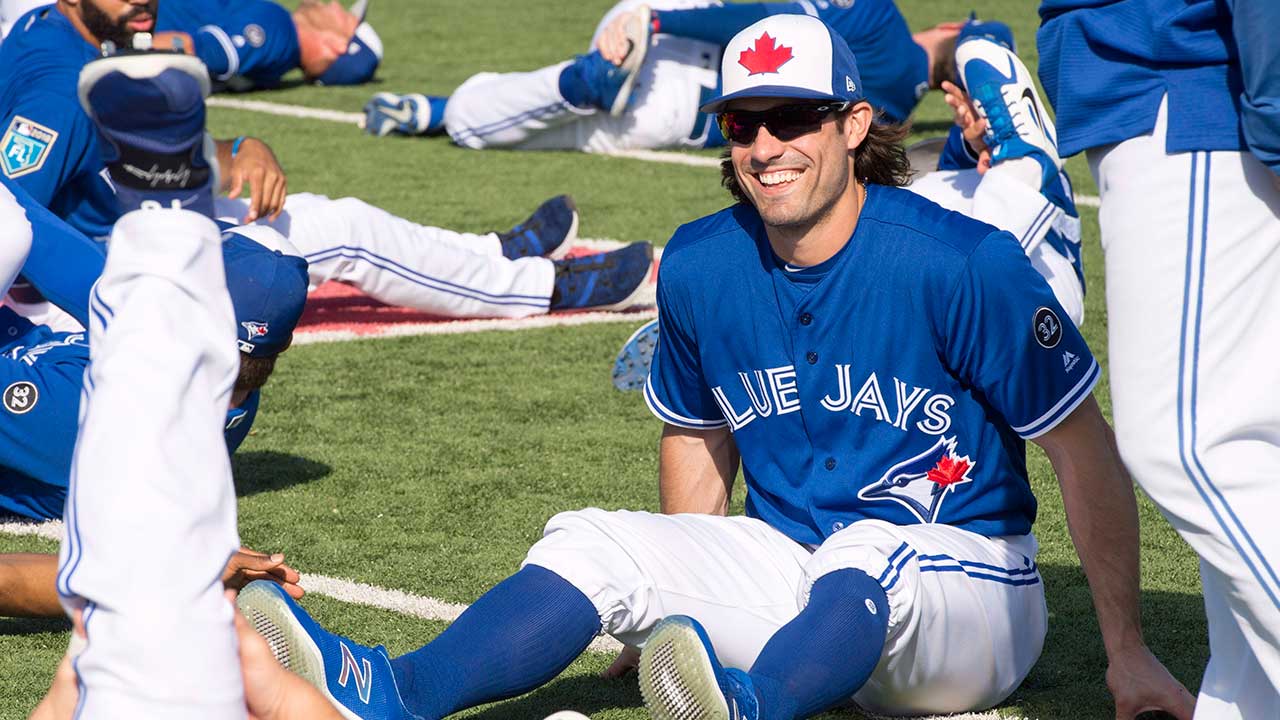 Offseason Recap
Trying to force their way back into contention, the Blue Jays had a fairly active offseason. The lineup in 2018 is projected to have three new names, while the pitching staff will feature several new faces. Their biggest addition was Randal Grichuk, a former Angels prospect who broke into the league with the Cardinals. Grichuk will definitely strike out a fair bit (career 29.9% strikeout rate), but he has 30 homer ability and is typically a positive in the field.
For me, the biggest loss was Dominic Leone, who could have been a reliable arm in the Toronto 'pen for several years. Still, the most notable departure was probably Jose Bautista. Especially after Roy Halladay was traded to the Phillies, Bautista was a big reason why the Blue Jays became prominent again. While he was a polarizing figure around the league, I'd imagine the fan base will always respect what he did for the organization. No one will ever forget his home run against the Rangers in 2015.
All Additions: Randal Grichuk, Gift Ngopepe, Rob Refsynder, Aledmys Diaz, Yangervis Solarte, Curtis Granderson, Al Alburquerque, John Axford, Craig Breslow, Jaime Garcia, Seung-hwan Oh, Tyler Clippard
All Departures: Dominic Leone, Jose Bautista, Mike Bolsinger, T.J. House, Brett Anderson, Darwin Barney, Miguel Montero, Michael Saunders, Ryan Goins, Tom Koehler
2018 Outlook
Best Case: The Toronto offense gets back to its pre-2017 ways, finishing in the top half of the league in OPS. Granderson and Grichuk lead the turnaround of the outfield, and all three outfield members crank at least 20 home runs. Donaldson is an MVP candidate again, Tulowitzki finds some way to stay healthy, and infield pickups Solarte and Diaz prove to be worthwhile additions. The pitching staff is solid yet again—Stroman and Sanchez live up to their potential and form a formidable duo, while the bullpen finishes as a top-10 unit. The Jays flirt with a win total in the high 80s and make the playoffs as a Wild Card team.
Worst Case: The offensive additions that were made completely backfire. Grichuk can't overcome a poor approach at the plate and even with regular playing time struggles to hit 25 homers. Granderson's biggest contribution is being a veteran presence, while Diaz can't get back to his 2016 All-Star form. That latter part of that sentence hurts a lot, as guys like Tulowitzki and Devon Travis struggle with injuries yet again. Marcus Stroman can't carry the rotation on his back, and the bullpen regresses from 2017. The Blue Jays are hard-pressed to win more than 75 games, and the front office watches Donaldson walk in the offseason.
PECOTA Projected Record: 80-82, 767 RS, 781 RA