by: Ryan Waldis
Over the next 30 days (March 1st through March 30th), I'll be previewing each of the 30 MLB teams in reverse order of the 2017 league standings. The series will conclude on March 31st, when I'll be releasing my predictions for the 2018 season. With that said, let's jump into the 10th team preview of the series, featuring the Oakland Athletics.
Quick Facts
Manager: Bob Melvin (8th season)
2017 Record: 75-87, 5th in AL West
Run Differential: -87
Top Position Player: Jed Lowrie (4.0 WAR)
Top Pitcher: Kendall Graveman (2.1 WAR)
2017 Review
After posting consecutive sub-70 win campaigns, the Athletics made a noticeable improvement in 2017, finishing with 75 victories—a six win improvement over 2016. Their offense was solid, their young talent shined, and had Oakland possessed a slightly better pitching staff, they could have flirted with a .500 record. As it was, the most important thing the A's did in 2017 was improve their farm system; they made two trades in July which netted them five intriguing prospects. Three of them slotted into the organization's top five, while the other two settled within the top 11.
The Athletics were kind of similar to the Phillies in that they had a rough start to the season before playing better in the second half due to performances by some younger players. The team went 39-50 in the first half of the campaign before posting a 36-37 record over the second half. They experience an eight game losing streak from the end of August through early September, but they countered that with a seven game winning streak towards the end of the season. Their best month of the season was September, as they went 16-12 while scoring 147 runs (a season-high) while allowing 130 (their third-lowest mark in 2017).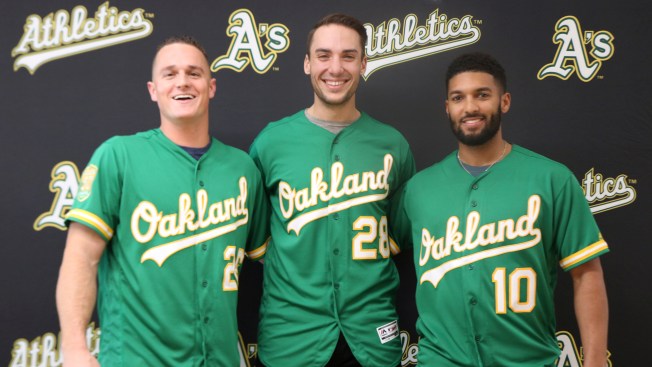 Offense
Two-time All Star Stephen Vogt went into 2017 as the starting backstop for Athletics and experienced a fall from grace that not many were expecting. He struggled to slash .217/.287/.357 in 54 games before being DFA'd in June. The most notable catcher to play for the A's after the move was 26-year-old Bruce Maxwell. He slashed .237/.329/.333 over 253 plate appearances, providing subpar defense behind the dish (-0.7 Framing Runs, -1.9 adjusted FRAA). He didn't receive attention for his play on the field, though. Maxwell received a ton of attention for becoming the first Major League player to kneel during the National Anthem, which he did during a weekend in late September.
Yonder Alonso was well on his way to putting up the best offensive season of his career (sans a 98 plate appearance run in his sophomore campaign). The infielder hit to a line of .266/.369/.527 during 100 games with the A's, with a walk rate (13.1%) that had jumped five percent from the previous year. More importantly, he hit 22 home runs in 371 plate appearances after never hitting more than nine in a season. This was due in part to a change in his approach at the plate—Alonso hit a fly ball 45.5% of the time during his time in Oakland, 12 percent higher than his career norm.
Rhys Hoskins cranked 18 home runs in 170 at bats. Matt Olson hit 24 in 189. The latter was one of the most impressive rookies in 2017, showcasing his exceptional power in a small sample size. Olson finished with a wRC+ of 162, and slashed .259/.352/.651 with a 27.8% strikeout rate and 10.2% walk rate. The first baseman limited his soft contact while posting a 40.3% hard% contact rate, and had an ISO of .392. He didn't do much else at the plate, though—of his 49 hits, 24 were dingers and 23 were singles, and he contributed zero stolen bases.
Jed Lowrie didn't miss any time due to injury in 2017 and responded by putting up a 119 wRC+, which was his best mark since 2013. He sent 14 balls over the fence, and exhibited his great approach at the plate, walking 11.3% of the time and posting a wOBA of .347. The infielder wasn't phenomenal in the field—the -1.4 UZR at second base left a bit to be desired—but the 33-year-old led the Athletics in WAR, which was a nice accomplishment.
Shortstop Marcus Semien had a rough 2017 from a health standpoint. He was hitting just .171/.370/.229 in the middle of April before injuring his wrist, which put him on the shelf for nearly three months. Upon returning from injury, Semien's performance gradually improved and he finished the campaign with numbers close to his career norms—a .249/.325/.398 triple-slash, 12 stolen bases, a 22.0% strikeout rate, and 10 home runs. He posted a -2.7 UZR in the 747 innings he logged at shortstop, which wasn't terrible.
After the Trevor Plouffe experiment turned out to be a failure, Matt Chapman was handed the reigns as the starter and produced a solid rookie season. The 2014 first round pick was eight percent better than league average, putting up a 108 wRC+ and slashing .234/.313/.472 with 14 home runs. He drew a walk close to 10% of the time (9.8%), which makes the 28.2% strikeout rate more palatable. The rookie didn't disappoint in the field either; his 9.2 UZR over the 727 innings he played at the hot corner was good for 2nd among third basemen with at least 700 innings, behind just Anthony Rendon.
In a vacuum, the 2017 Oakland A's outfield wasn't bad. Khris Davis impressed yet again; the outfielder smacked 43 home runs, becoming just the fourth Athletic ever to notch multiple 40-homer campaigns in an Athletics uniform, joining Jimmie Foxx, Mark McGwire, and Jose Canseco. Foxx was the only one to do it in back to back seasons until Davis joined him on that list. Defense was still an issue for Khris, but he finished with a 128 wRC+ and an 11.2% walk rate, which were both career highs. Matt Joyce stepped up to the plate 544 times in 2017 and couldn't match his improvements from 2016. The six-year Ray saw his walk rate drop by eight percent and his wRC+ drop by 20 from 136 to 116. His OBP dropped by 70 points, and his wOBA dropped by 30. Overall, he slashed .243/.335/.473, albeit while hitting 25 home runs. Once again he was awful against southpaws, hitting and ugly .186/.266/.271 in 79 plate appearances. The other outfielder of note was Rajai Davis, who showed his age by posting a 73 wRC+. He stole 26 bases but overall didn't contribute much to the A's other than perhaps a veteran presence.
25-year-old Ryon Healy was league average with the stick last season, slashing .271/.302/.451 on his way to a solid, if unspectacular, campaign. As an impressively bad fielder, Healy made most of his appearances as the DH in 2017. He did manage to hit 25 homers and 29 doubles in 605 plate appearances, but that's about all he was good for. Healy drew a walk just 3.8% of the time while striking out 23.5%, which is far from an ideal ratio.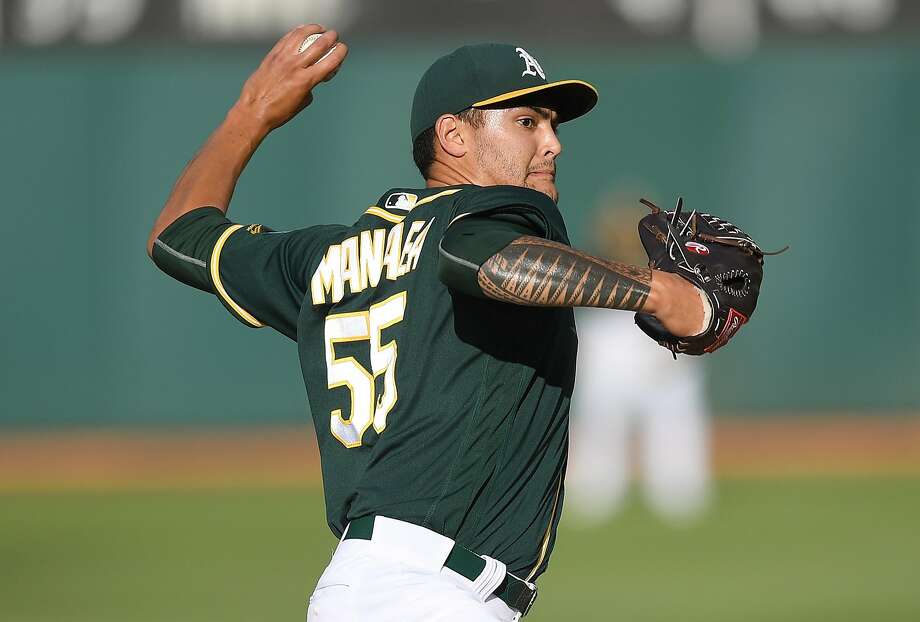 Pitching
In the introduction, it was mentioned that the Athletics pitching staff held that back from winning several more games. The squadron finished tied for 22nd in the league (with San Diego) with a cumulative 4.67 ERA. Of the 826 runs they allowed, 743 were earned. They collectively walked 502 while striking out 1,202. The leader of the rotation, Sonny Gray, bounced back from a rough 2016, posting a 3.43 ERA and 3.25 FIP in his 16 starts leading up to a deadline trade with the Yankees. 2nd year arm Sean Manaea was also intriguing. He battled a shoulder strain and an illness that made him lose 20 pounds, but still pitched 158.2 innings of 4.37 ERA (4.10 FIP) ball over 29 starts. The southpaw's walk rate increased by about two percent from his rookie season, but the SwStr rate of 11.3 was close to what he accomplished a year prior. He had issues with his changeup that weren't evident before (9.4 wCH in '16 vs. -4.8 in 17), but the slider was still mightily effective (3.4 wSL).
Kendall Graveman started off his 4th season well, holding a 2.25 ERA at the end of April. However, he began battling shoulder issues and was later placed on the DL, missing almost three months. Overall, he ended up pitching just 105.1 innings in 19 starts, posting a 4.19 ERA and 4.33 FIP. One positive to take away was his improved strikeout rate, which jumped two percent to 15.8% in 2017. Jesse Hahn pitched to an ERA/FIP/xFIP line of 5.30/3.62/4.56, which was an improvement over his rough 2016. He pitched a nice 69.2 innings over 13 starts before being demoted and eventually sidelined for the season with a lat strain. The righty posted his lowest LOB% (60.6%) of his career, but improved his HR/9 mark (1.55 in 2016 against 0.52 in 2017) and his strikeout rate (17.4%, a six percent jump from the previous campaign).
Joining the list of starters who had promising starts to their campaigns, second year arm Andrew Triggs held a 2.64 ERA after a May 28th start against the Yankees. He proceeded to let up 14 earned runs over his next two starts against the Nationals and Rays and would eventually be shut down for the season due to hip surgery. Overall, he posted a 4.27 ERA and 4.47 FIP in 12 starts. Still, the 28-year-old was able to exhibit some of his upside, which was more important than anything. Rookie Paul Blackburn received a call-up to the Show in July, and in 10 starts pitched to a 3.22 ERA. The 4.38 FIP was more telling, though: in 58.2 innings, Blackburn compiled an ugly 3.38 strikeouts per nine innings while walking 2.45. The other two arms who made double-digit starts weren't appealing—Jharel Cotton and Daniel Gossett both battled multiple issues en route to uninspiring ERAs and FIPs (5.58 and 6.11 ERAs, 5.68 and 5.59 FIPs, respectively).
Oakland's bullpen wasn't much better, finishing 25th in the league with a combined 4.57 ERA. They struck out 527 batters while walking 204. The leaders were southpaw Sean Doolittle and the ageless Ryan Madson. The former pitched to a 3.38 ERA and 2.36 FIP while the latter pitched to impressive 2.06 and 2.45 marks before a mid-July trade to the Nationals sent both players to a better situation. In that trade, the Athletics received Blake Treinen, who struggled mightily with the Nats but rebounded big-time with his old team. The 29-year-old made 35 appearances and finished with a 2.13 ERA and 3.08 FIP, striking out 42 while walking 12. The 4.22 ERA of Liam Hendricks might not look incredible, but the 3.22 FIP was more indicative of his performance in the 64 innings he was on the mound. Ditto for Danny Coulombe; his 4.16 was 68 points higher than his ERA, but the lefty was still a serviceable arm; he even made the most appearances out of anyone in the 'pen (72).
Santiago Casilla saved 16 games! Woo! Yay! The former Giant also finished with a 4.41 FIP and posted his lowest strikeout rate since 2014. Other arms like Simon Castro and Frankie Montas made 20-plus appearances; the former finished with a FIP a couple ticks over five while the latter pitched to a 7.13 mark. Josh Smith appeared in 26 games and had a 4.89 ERA, albeit with a passable 4.13 FIP.
Offseason Recap
The Athletics had an active offseason, making five different trades and some minor free agent additions. The biggest addition was outfielder Stephen Piscotty, who was acquired in a trade with the Cardinals. Piscotty will immediately slot in and become a contributor in the Oakland outfield. As a sidenote, the Cardinals organization did everything they could to get Piscotty back to his home state of California so he could be closer to his mother, who was diagnosed with ALS. I tip my hat to them.
The A's didn't lose a lot over the offseason, so their most notable departure would probably be Ryon Healy. The DH was traded to the Mariners in mid-November, but he was in danger of losing his spot in the starting lineup (and possibly the 25-man roster) anyway, so the young player was kind of expendable.
All Additions: Stephen Piscotty, Jonathan Lucroy, Emilio Pagan, Yusmeiro Petit, Slade Heathcott, Eric Jokisch, Steve Lombardozzi, Ryan Buchter
All Departures: Ryon Healy, Ryan Lavarnway, Michael Brady, Chris Carter, Felix Doubront, Josh Smith, Tyler Strudevant, Jaycob Brugman, Joey Wendle, Jesse Hahn
2018 Outlook
Best Case: The Athletics end the season with three players—Olson, Chapman, and Davis—who comfortably crank 30 home runs while flirting with 40. Lowrie has another injury-free season, while Semien and top prospect Franklin Barreto carry the load at short (and, in Barreto's case, second base). Piscotty bounces back from a forgettable 2016 campaign and exhibits his 20/5 potential while hitting for a respectable average. Manaea, Triggs, and Graveman prove to be formidable rotation options, while Treinen proves the end of 2017 wasn't a fluke. With a slightly better performance from the pitching staff as a whole, the Athletics go .500.
Worst Case: The injury-plague strikes again. Lowrie, Semien, Manaea, Graveman, and Triggs all miss extended periods of time, and the rest of the team can't carry the slack. The league adapts to Olson and Chapman, and the two infielders have trouble countering. The pitching staff is worse in 2017 than it was in 2016, and the summer is a rough one for the players, front office, and fan base alike. The Athletics post a 90-plus loss record for the third time in four years (the first time something like that would happen since the late 70s) as they desperately hope their prospects down on the farm pan out.
PECOTA Projected Record: 76-86, 775 RS, 827 RA