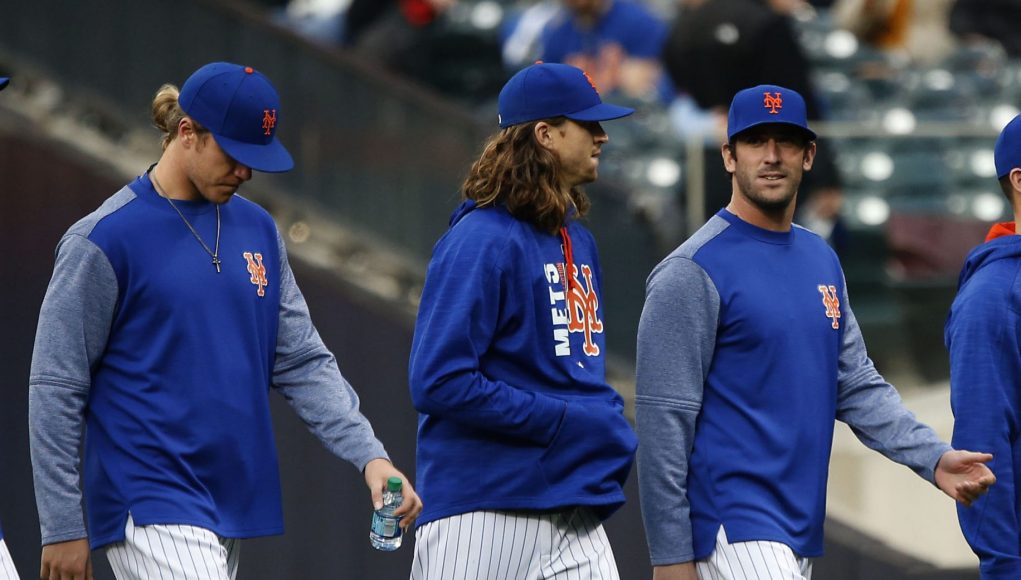 by: Ryan Waldis
Over the next 30 days (March 1st through March 30th), I'll be previewing each of the 30 MLB teams in reverse order of the 2017 league standings. The series will conclude on March 31st, when I'll be releasing my predictions for the 2018 season. With that said, let's jump into the 6th team preview of the series, featuring the New York Mets.
Quick Facts
Manager: Mickey Callaway (1st season)
2017 Record: 70-92, 4th in NL East
Run Differential: -128
Top Position Player: Michael Conforto (3.6 WAR)
Top Pitcher: Jacob deGrom (4.4 WAR)
2017 Review
The first of ten teams that managed to join the 70 win club a season ago, the Mets entered 2017 with fairly high expectations. The team was coming off of consecutive playoff appearances, and were just two years removed from an improbable 2015 run that saw them win the division with a 90-72 record en route to their first World Series appearance since 2000. Unfortunately, the team dealt with inconsistencies both at the plate and on the mound, leading to their lowest win total since 2009.
Due to the success of teams like the Diamondbacks, Rockies, and Brewers, the Mets were never really in contention for a playoff berth. Still, they played a respectable brand of baseball over the first four months of the 2017 campaign. After a 10-14 month of April, the Mets went 13-14 in May, 14-14 in June, and 11-13 in July. A record of 48-55 isn't great (especially for a team with higher expectations), but in a vacuum being seven games under .500 at the start of August wasn't the worst possible outcome for the Mets. However, the Mets proceeded to go just 22-35 over the final two months of the season and began exhibiting issues that at least partially concerned the fanbase heading into the offseason.
Offense
A former Phillies prospect, on-lookers have been waiting for Travis d'Arnaud to live up to the hype that surrounded him when he was younger. Unfortunately, it seems like his potential will never fully be realized. d'Arnaud has always been league average at best with the bat; his career triple-slash is .245/.306/.406, and the 16 home runs he hit a season ago were a career-high. His walk rate in 2017 was 6.1%, and he's never posted a BABIP higher than .293 in his career. Despite his deficiencies at the dish, d'Arnuad is solid behind the plate, finishing with an adjusted FRAA of 4.8 (15th in the league among catchers) and a Framing Runs mark of 9.7 (9th).
Lucas Duda put together a solid half-season with the Mets before being traded to the Rays. In 75 games (291 plate appearances), Duda slashed .246/.347/.532, clubbing 17 home runs and posting a 129 wRC+. He struck out 25.1% of the time, which would have ranked 67th among batters with at least 250 plate appearances. His hard% of 44.1% represented a career-high, but his -0.7 UZR at first base represented a career-low.
The 11th overall pick in the 2004 Amateur Draft, former Pirate Neil Walker played a solid 73 games for the Mets, posting a 108 wRC+ before getting traded to the Brewers towards the end of the campaign. An injury that Walker suffered in June clearly affected the second baseman when he returned to action, but his overall triple-slash of .264/.339/.442 was still appealing, and he still managed to draw a walk nine percent of the time while only striking out 15.7%. He was a negative defensively, though, posting a -1.7 UZR at second base.
At the age of 34, Jose Reyes had a below-average season offensively last year. He had the counting stats that a lot of the casual fans look at—15 home runs, 25 doubles, 24 stolen bases—but the overall .246/.315/.413 slash-line was definitely unappealing. A lot of his value came from his positional versatility: Reyes played 207.1 innings at second, 279 innings at third, 630.1 innings at shortstop, and even spent several innings in the outfield.
Wilmer Flores posted a line that was almost identical to what he posted in 2016. The .271/.307/.488 slash-line resulted in the best OPS of his career, and the 18 home runs he blasted was a career-high. Staying true to his career tendencies, the 25-year-old Flores posted a BB% of 4.7% while finishing with a strikeout rate of 14.9%. He played at three different positions in 2017, logging 178.1 innings at first, 91 at second, and 425.2 at the hot corner. The -2.8 UZR at third was slight improvement over his performance in 2016, and he graded out positively at the other two positions.
After a couple of below-average offensive seasons with the Indians, Asdrubal Cabrera has bounced back over his two year stint with the Mets. He finished with a 111 wRC+ in 2017, hitting .280/.351/.434 over 540 plate appearances. The infielder managed to hit 14 home runs a season after hitting 23, and he drew a walk close to 10 percent of the time (9.3% BB%). Still, it's clear that injuries have affected his game; the -8.9 BsR he posted in 2017 was by far the lowest of his career, and he graded out negatively at both shortstop and third base, the two positions where he logged the most innings.
The Mets featured five main outfielders over the course of the 2017 season. Michael Conforto was probably the best of the bunch. Despite being heavily underutilized for the first month of the season, Conforto still managed to post career numbers, slashing .279/.384/.555 while hitting 27 dingers and drawing a walk 13 percent of the time. Yoenis Cespedes was second-in-command, at least when he was healthy. His triple-slash was .292/.352/.540 and the 32-year-old outfielder had 17 home runs in 321 plate appearances, meaning he was definitely on a full-season pace to blast at least 25. Having said that, the 81 games he played in was a career-low. Jay Bruce's calling card is power, and in 448 plate appearances he slugged 29 before being traded to the Indians. The overall slash-line (.256/.321/.520) might not have been exceptional, but the 120 wRC+ is definitely something to write home about.
The .228 average of Curtis Granderson isn't eye-popping, but the former Tiger and Yankee hit 19 home runs over his 111 games with the Mets before being moved to the Dodgers. Granderson also posted solid walk and strikeout rates, finishing with a 13.4 % BB% and 20.5% K% prior to the trade. Juan Lagares had one solid offensive season in 2014, which has proved to be an outlier. He has a career wRC+ of 84, indicating that the outfielder struggles with the bat. Lagares doesn't struggle in the field, though, finishing with a 10.4 UZR in centerfield a season ago.
Pitching
If you were to tell someone two years ago that a pitching staff that includes Noah Syndergaard, Jacob deGrom, and Matt Harvey would combine to pitch to the third-worse cumulative ERA in the league, you'd get some very odd looks. Due to injury issues and general inconsistency, that's the point that the Mets are at. 2017 was a rough season for their group of arms, as they were one of just three teams to finish with an ERA over 5.01. deGrom led the way for the starting rotation last season, making 31 starts and pitching to a 3.53 ERA (3.50 FIP). Tossing over 200 innings was a welcome sight for both the front office and fanbase alike. Robert Gsellman was the only other starter to make more than 22 starts, and he had a rough go of it. The 5.19 ERA was ugly, as was the 3.16 BB/9 mark and his 1.28 HR/9 statistic. Special shoutout to Syndergaard—when he wasn't injured, he was still a heck of a pitcher. A 2.97 ERA (1.31 FIP) over seven starts is nothing to scoff at.
Five other starters made double-digit starts for the Mets in 2017: Rafael Montero, Seth Lugo, Matt Harvey, Zack Wheeler, and Steven Matz. Aside from Lugo (who finished with an ERA of 4.71), the other five finished with ERAs over five, while Harvey and Matz finished with ERAs north of six. Montero struggled mightily with his command, posting an unsightly 12.2% BB% (5.07 BB/9), as did Wheeler (4.17 BB/9), although the latter was making his first appearances on the mound since 2014 (he pitched one inning in 2016). Harvey allowed close to five walks (4.56) and two home runs (2.04) per nine innings, while Matz posted similarly bad numbers (2.57/1.62). Seth Lugo was the best of the bunch, finishing with a FIP of 3.95 indicating that there is some upside in that right arm of his.
The bullpen wasn't any better, finishing ahead of just Detroit in regards to ERA, pitching to a 4.82 mark. They were one of two teams that allowed over 300 earned runs. They posted the fourth highest walk total, issuing the free pass 269 times. Addison Reed and Jerry Blevins were the main contributors over the course of the season; Reed made 48 appearances and pitched to a 2.57 ERA, while Blevins tossed 49 innings over 75 appearances (many as a lefty specialist) and finished with a 2.94 ERA. Chasen Bradford was solid as a lower-leverage arm, as was Josh Edgin: the duo posted ERAs of 3.74 (3.87 FIP) and 3.65 (4.62), respectively. The rest of the bullpen wasn't great. Relievers like Paul Sewald, Hansel Robles, Erik Goeddel, and Josh Smoker finished with ERAs in the mid-fours to high-fives..
Offseason Recap
The Mets did not have as busy an offseason as the fanbase was expecting. They made several signings, but shockingly failed to address the depth issues within the rotation while barely addressing the inconsistencies within the bullpen. Their biggest addition was Jay Bruce, who they decided to bring back in free agency after a combined one season with the organization. His bat will fit in well in the middle of the Mets projected lineup.
A lot of players were granted free agency by the Mets, but none of the players the team lost were really notable. The best of the bunch was probably Josh Edgin, but even that is stretching the phrase "best of the bunch" a bit.
All Additions: Jay Bruce, Matt Purke, Jose Lobaton, Anthony Swarzak, Adrian Gonzalez, Ty Kelly, Todd Frazier, Matt den Dekker, Jason Vargas
All Departures: Norichika Aoki, Erik Goeddel, Tom Gorzelanny, Travis Snider, Chasen Bradford, Josh Smoker
2018 Outlook
Best Case: Everyone on the Mets receives divine intervention and injuries to each player are no longer a possibility. Jay Bruce, Michael Conforto, and Yoenis Cespedes anchor the lineup, with each hitting 30 homers. The pitching staff is led by the exceptional trio of Noah Syndergaard, Jacob deGrom, and a reinvigorated Matt Harvey, who combine to miss just four starts on the season. The Mets shock the league and win the division for the second time in three years, and make an intriguing run in the playoffs.
Worst Case: Everyone on the Mets does not receive divine intervention and injuries to any of the players on their roster are definitely a possibility. The starting rotation battles through injury woes again, as Syndergaard, deGrom, and Harvey all miss considerable periods of time. Cespedes deals with another injury plagued season, Conforto can't match the numbers he put up in 2017, and Bruce starts a slow but steady decline. The Mets aren't bad enough to lose 100 games, but they flirt with two consecutive 90 loss seasons for the first time since 1992 and 1993.
PECOTA Projected Record: 81-81, 726 RS, 726 RA