by: Ryan Waldis
Over the next 30 days (March 1st through March 30th), I'll be previewing each of the 30 MLB teams in reverse order of the 2017 league standings. The series will conclude on March 31st, when I'll be releasing my predictions for the 2018 season. With that said, let's jump into the 3rd team preview of the series, featuring the Philadelphia Phillies.
Quick Facts
Manager: Gabe Kapler (1st season)
2017 Record: 66-96, 5th in NL East
Run Differential: -92
Top Position Player: Cesar Hernandez (3.1 WAR)
Top Pitcher: Aaron Nola (4.5 WAR)
2017 Review
In a vacuum, the 2017 Phillies season wasn't awful. Some of the young players didn't take a step forward in their progression like many had envisioned. There was that period of time early in the season when the team seemingly forgot how to play the game of baseball. They finished with the third-worst record in the league. However, some of the other young players provided a lot of hope for the future. There was that period of time over the second half of the season when the Phillies played like a respectable team. The organization continued to add to their intriguing prospect pool.
That first aforementioned period of time was a 55 game stretch spanning May and June when the Phillies went 15-40. May was especially dreadful, as the team posted a 6-22 record. For the first time since June 1997, the Phillies failed to win two straight games in a calendar month, and after a 10-2 win over the Cubs on May 1st, they fell behind in 27 consecutive games. This was partially due to their starting rotation, who pitched to a 2-16 record and a 6.55 ERA in the month. The end result was a 17-34 record after two months, which was the team's worst start since 1945.
It was after this two month stretch that the second period of time occurred. The Phillies went 13-12 in July, scoring 122 runs while allowing just 98. They also posted a 15-13 record in September, finishing with a +19 run differential as a lot of the younger players on the team provided fans with a plethora of reasons for optimism heading into a crucial 2018 campaign. rhys
Offense
Cameron Rupp earned the bulk of the playing time behind the dish in 2017, and at the age of 28 exhibited his limited upside. He hit 14 home runs in 331 plate appearances, but the average power is about all the Texan had to offer. His struck out at an extremely high clip (34.4 percent), his defense behind the plate was suspect (107th out of 110 in FRAA_ADJ with a -11.8 mark), and after a 2016 season where he was close to league average offensively (98 wRC+) he regressed in 2017 (84). To top it all off, he watched as two organizational prospects in Jorge Alfaro and Andrew Knapp passed over him on the depth chart, especially in September.
Coming off of a surprising 2016 when he clubbed 21 homers in 347 plate appearances and was more than respectable at the plate (.257/.308/.505), Tommy Joseph entered 2017 with the expectation of being a reliable, middle-of-the-lineup bat. Those expectations slowly went south over the course of the season as Joseph regressed and was later outshined by a top prospect. The former catcher hit the ball in the air far less than he did in his rookie campaign (45.1 percent vs. 39), which lowered his home run pace from around 40 to approximately 25. Combine that with his subpar defense, and Joseph was an unappealing commodity for much of the year.
The much better first baseman (who was forced to play the outfield because of Joseph) was Rhys Hoskins, who set the league ablaze after his August call-up. There was a point where he hit eight home runs in nine games, and after a game against the Marlins on September 14th (when he hit his fourth homer of the series) Rhys sat with a triple-slash of .314/.442/.805. For those keeping score at home, that equates to a 1.247 OPS. The rookie flamed out towards the end of the season, ultimately finishing with a .259/.396/.618 line to go along with 18 home runs and a 46:37 strikeout-to-walk ratio, finishing 4th in Rookie of the Year voting. In just 50 games, Hoskins turned out to be the most potent offensive weapon the Phillies had showcased in years.
If Cesar Henandez didn't play on the Phillies, he'd probably be getting pushed as one of the best second basemen in the league. Sadly, due to the way the Phillies have played over recent years, Hernandez is often overlooked on many top 10 lists. He was above average at the plate again in 2017, posting a wRC+ of 111 and slashing .294/.373/.421. He set a new career high in home runs (9) and doubles (26), and was once again a positive in the field (2.6). With Scott Kingery biting at his heels at Lehigh Valley, Hernandez manged to hold his ground yet again.
Freddy Galvis had another Freddy Galvis-like year at the plate, slashing .255/.309/.382 over all 162 games en route to his highest wRC+ (80) since 2013. The power dropped off a bit, but the shortstop still managed to hit 12 homers over the course of the season. Freddy's main value comes when he's on defense, as he's one of the more reliable defensive shortstops in the game. His fielding regressed a bit in 2017 (3.6 UZR compared to 15.1 in 2016), but overall he was almost as good as they come in the field.
Former top prospect Maikel Franco drew the ire of fans in 2017 for his subpar performance. It was only two years ago when the 23-year-old Franco burst onto the scene, slashing .280/.343/.497 with 14 home runs as a rookie. He hasn't been able to match that output since; while his home runs have gone up (25 and 24 the previous two years), the rest of his offensive game has evaporated (91 and 76 wRC+ numbers in 2016 and 2017). He's not exactly a plus-fielder (-4.7 UZR), so his impact has to come from his bat. A .230/.281/.409 slash line obviously didn't cut it.
The outfield was one of the most interesting things about the Phillies in 2017, especially when you consider the amount of intriguing outfield prospects the Phillies still have yet to showcase at the major league level. Hoskins was forced to play the outfield and wasn't awful defensively. Aaron Altherr, Odubel Herrera, and Nick Williams all took positive steps in their progressions, each posting above average OPS+ numbers (124, 104, and 113, respectively). Altherr finished second on the team in homers with 19 and was closer to an OPS of .900 than .800 (.856). Herrera had a rough start to the season, leading to some unwarranted criticism. He quieted the critics from June onward, as he slashed .318/.361/.526. Williams struck out a ton (28.3 strikeout percentage, one of the higher marks in the league), but he slashed a cool .288/.338/.473 in his debut season, although that could have potentially been aided by a .375 BABIP.
Pitching
The Phillies pitching staff finished with a cumulative 4.55 ERA, which was definitely a disappointment. The staff entered 2017 with somewhat high expectations, and outside of a couple arms those expectations were not met. The starting rotation essentially turned out to be Aaron Nola and a bunch of junk. Nola once again battled health issues in making just 27 starts, but he performed very well in those 27 starts. The 3.54 ERA might not jump off the page, but the 3.27 FIP, his strikeout and walk rates (9.86 K/9 and 2.63 BB/9) and his ability to keep the ball in the yard (0.96 HR/9) indicate that the LSU product hasn't fully reached his ceiling.
Seven other pitchers made at least 11 starts for the Phillies in 2017, and none of them were particularly good. Jerad Eickhoff took a major step back, pitching to a 4.71 ERA a year after posting a 3.65 mark. Part of that could be attributed to his higher-than-normal BABIP (3.28), but he also experienced control issues, walking a career-high 3.73 batters per nine innings. Batters hit .274 off him, a 30 point jump over the previous season. Admittedly, injuries could definitely have been a major reason why the 27-year-old fell off as well. Vince Velasquez also battled injuries all season and was only able to start 15 games. His stamina was yet again an issue—the former Astro lasted an average of 4.8 innings in his starts. One of the big pieces in the Ken Giles trade, Velasquez only helped raise more red flags in 2017.
Jeremy Hellickson was not as effective as he was in 2016, and was eventually traded to the Orioles. Zach Eflin struggled mightily to the tune of an ERA north of six, as did Nick Pivetta. However, Pivetta's FIP of 4.87 and xFIP of 4.26, along with his above average BABIP (.332) and below average LOB% (67) would indicate that he has the tools and makeup to survive in a major league rotation. Ben Lively outpitched his peripherals; the 4.26 ERA might look nice, but he struck out an anemic 5.28 batters per nine innings and the 5.58 xFIP is ugly. Mark Leiter struggled in both starting and relief work, finishing with an ERA of 4.96 and a FIP of 5.14.
The Philadelphia bullpen wasn't completely awful in 2017, actually finishing 14th in the league in ERA (4.18). Pat Neshek led the way until his trade to the Rockies in late July, pitching to a 1.12 ERA and posting an impressive 45 strikeouts to just five walks. Luis Garcia was also extremely surprising, finishing with an ERA in the mid-twos and a FIP of 3.12 despite a strikeout-to-walk ratio of roughly two to one. Hector Neris led the team in saves with 26 for what that's worth, and while home runs were an issue (nine in just 74 innings), he proved that for the most part he can handle high leverage situations. Edubray Ramos was respectable in 57 innings of work, striking out 75 and finishing with a 2.92 FIP. Joaquin Benoit was also solid in his team as a Phillie, pitching to an ERA just north of four. Hoby Milner (2.01 ERA), Adam Morgan (4.12), and Victor Arano (1.69) also deserve recognition.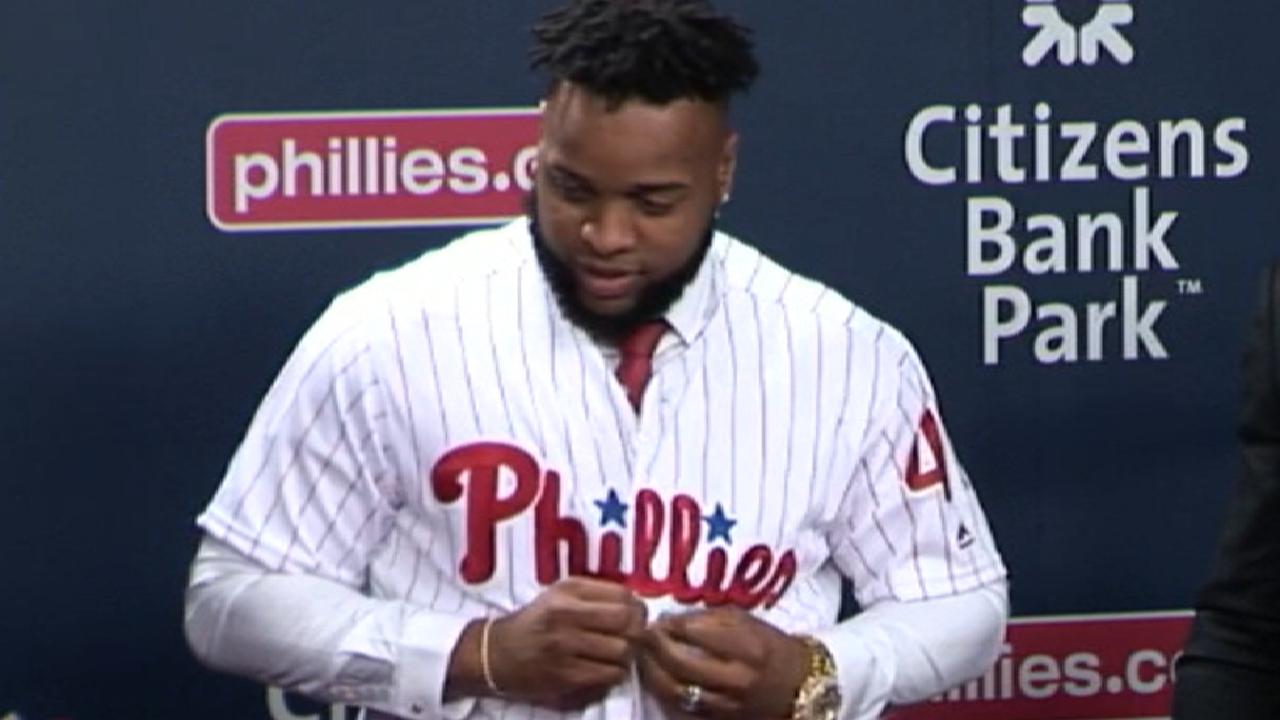 Offseason Recap
The Phillies were fairly active when free agency opened, signing three of the better players on the market (as of the time I'm writing this, they're also in conversations with several starting pitchers, most notably Jake Arrieta and Lance Lynn). The biggest name of the three was Carlos Santana, who left Cleveland to sign the 3/60 deal that Matt Klentak and the Phillies front office offered him. While he'll never hit for a high average, the first baseman is universally praised for his approach at the dish (.365 career OBP, career walk and strikeout rates of 15.2 and 17 percent, respectively) power (25-plus home run potential) and defensive prowess.
SIDENOTE: Since the writing of this preview, the Phillies agreed to a three-year, $75 million deal with starting pitcher Jake Arrieta. The move definitely improves their rotation and improves the team's chances of making a run for a Wild Card spot.
The biggest departure was Galvis, the lifetime Phillie who was traded on December 15th to the Padres in exchange for Enyel De Los Santos, an intriguing prospect. Other than Galvis (who will be replaced by top prospect J.P. Crawford), the Phillies didn't really lose a lot.
All Additions: Carlos Santana, Tommy Hunter, Pat Neshek, Francisco Rodriguez, Ryan Flaherty, Collin Cowgill, Drew Hutchinson, Fernando Abad
All Departures: Freddy Galvis, Cameron Perkins, Brock Stassi, Pat Venditte, Andres Blanco, Hyun Soo Kim, Daniel Nava, Ty Kelly, Henderson Alvarez
2018 Outlook
Best Case: The Phillies add at least one (and ideally two) arms that are currently on the free agent market (I'd like Arrieta and Alex Cobb), the other young arms in the rotation take positive steps in their progressions, Santana sets a good example and leads a young lineup to success, and the Phillies play meaningful baseball in September for the first time since 2012, eventually earning the second wild card spot. They become an extremely attractive location for members of the stacked 2018 free agent class.
Worst Case: Nola, Eickhoff, and Velasquez all struggle with health issues again, Santana struggles in his first year in Philadelphia, and the young players in the lineup such as Hoskins, Crawford, and Williams all became the subjects of frustrations from the Philly fanbase and media due to their issues at the plate. The Phillies finish with 90 losses again, and the increasingly impatient fanbase angrily questions the status of the rebuild.
PECOTA Projected Record: 78-84, 744 RS, 775 RA