by: Ryan Waldis
Over the next 30 days (March 1st through March 30th), I'll be previewing each of the 30 MLB teams in reverse order of the 2017 league standings. The series will conclude on March 31st, when I'll be releasing my predictions for the 2018 season. With that said, let's jump into the first team preview of the series, featuring the San Francisco Giants.
Quick Facts
Manager: Bruce Bochy (12th season)
2017 Record: 64-98, 5th in NL West
Run Differential: -137
Top Position Player: Buster Posey (4.0 WAR)
Top Pitcher: Madison Bumgarner (2.9 WAR)
2017 Review
The 64-98 record that the Giants finished with a season ago marked the first time since 1996 that the franchise finished with less than 70 wins in a campaign. The offense struggled mightily, the pitching fell apart, and most of the veterans that Bruce Bochy was counting on took a step back in one way or another. The Giants were shutout 11 times throughout the course of the season, and while they were respectable at AT&T Park (38-43) they played to a record of 26-55 away from home. Not surprisingly, the team failed to post a winning record in any month during the regular season (excluding, of course, their 1-0 record in October).
The first four months of the season in particular were rough for San Francisco. Their 13-16 record in May was as good as it got, as they won just nine games in April, June, and July. It's not incredibly shocking when you realize that the Giants scored less than 100 runs in three of these four months. They managed to plate 141 runs in June, but the pitching faltered and allowed 160.
The Giants somewhat turned things around over the final two months of their 2017 campaign, posting 13-16 and 10-15 records in August and September, respectively, but it was still hard to find many reasons for optimism heading into the offseason. The team had locked up the 2nd overall pick in the First Year Player Draft, and with one of the highest payrolls in baseball (combined with multiple deals that aren't exactly team-friendly) it would be somewhat difficult to make wholesale changes.
Offense
Buster Posey was the top position player for the Giants yet again, earning the accolade for the sixth consecutive season. After a bit of a down season (by Posey's standards) that left some questioning whether or not the elite catcher was beginning a slow decline, Posey posted exceptional numbers at the dish. He slashed .320/.400/.462 in his age-30 season, which was good for an .861 OPS. His strikeout-to-walk ratio was almost even (66 K's to 61 BB's), and a 128 wRC+ and .366 wOBA indicate that Posey was extremely consistent at the plate in a season where the Giants yearned for dependable offensive contributors.
Brandon Belt finished with another above average season at the plate despite missing the final two months after suffering his fourth concussion in eight seasons. The .823 OPS was right in line with his career average, and his 18 home runs led the team. He still showed a keen eye at the plate, walking in 14.6 percent of his plate appearances—the 8th best mark among players with at least 450 plate appearances.
After posting two above average offensive seasons to begin his career, Joe Panik heavily regressed in 2016, finishing with a wRC+ of 88 and an OPS below .700. He bounced back slightly last year, finishing with a .288/.347/.421 triple-slash. A closer look would reveal that he was the prototypical contact hitter: his wRC+ was only 104, and 104 of his 147 hits were singles. The second baseman doesn't walk a ton (he drew a free pass 46 times last season), but he doesn't strikeout a ton, either (54 times in 2017).
Even though he finished second on the squad with 14 homers, there were times throughout the season when Brandon Crawford struggled mightily at the plate. He finished with a below average wRC+ (86), and his wOBA was only .301. The .253/.305/.403 triple-slash might look respectable, but his 19.8 strikeout percentage and 7.4 walk percentage aren't entirely appealing. Sliders in particular killed the shortstop in 2017, as he posted a -3.75 wSL/C, the lowest mark of his career.
The hot corner was a mess for the Giants in 2017. Eduardo Nunez was essentially average over the first half of the season, batting to a 100 wRC+ and a .323 wOBA while somewhat struggling in the field (-3.3 UZR). After Nunez was traded to the Red Sox, the Giants mainly relied on a combination of a washed-up Pablo Sandoval and top prospect Christian Arroyo. Sandoval was awful, and while the statistics for Arroyo weren't pretty, there were times when it was clear why he was a highly regarded player in San Francisco's farm system.
The San Francisco outfield wasn't particularly interesting, either. Jarrett Parker and Hunter Pence both OPS'd slightly over .700 with the former exhibiting awful plate discipline (he struck out 30.5 percent of the time) and the latter potentially exhibiting the early signs of a decline. While Denard Span hit a career-high 12 home runs, the other aspects of his offensive game were average at best. Fielding was a major issue for Span especially; the -7.5 UZR the 33-year-old posted in center field would indicate that he was costing the team runs when he was in the field.
Pitching
The pitching staff finished with a cumulative 4.50 ERA, their highest mark since a 2006 season when Matt Morris, Noah Lowry, and Jamey Wright received more run in the rotation than they should have. Part of the major regression can be attributed to the loss of Madison Bumgarner, who suffered an injury early in the season after his fourth start and missed two months. The team's 4-13 record in the games that Bumgarner started, though, show that even the team's ace couldn't save the season.
Jeff Samardzija and Johnny Cueto, two arms who were supposed to provide the rotation with a sense of stability, also had down years. Shark's 1.30 HR/9 was a career high during his time as a starter, and his 41.5 GB% was good for only 41st out of 58 qualified starters. All of Samardzija's struggles came despite exceptional 8.88 K/9 and 1.39 BB/9 rates along with a 3.60 xFIP indicating that, if he pitches over 200 innings for the sixth straight season, there is value to be found. Cueto's issues were hopefully related to the blisters he experienced throughout the season and not the start of a decline for the 32-year-old. After making at least 32 starts in each of the previous three seasons, Cueto took the mound just 25 times in 2017, pitching to an ungly 4.49 FIP (4.52 ERA) while posting his highest walk rate (3.24) since his second major league season. Due to Cueto's track record, there's reason for optimism heading into 2018.
The rest of the rotation was pretty subpar. Matt Moore was not good. Matt Cain finished out his career making 23 starts and pitching to an ERA and FIP over 5.00, while Ty Blach couldn't quite match the success of his cup-of-coffee stint in 2016. The latter started 24 games for the Giants, and finished with the lowest K% in the big leagues among qualified arms. The southpaw has clear issues against righties, and the 5.01 xFIP indicates that there's not a ton of upside for Blach as a big league starter. Chris Stratton, the team's first round pick in 2012, made 10 starts after being called up from AAA and performed adequately. Walks were definitely an issue (4.3 BB/9), and he didn't strike out a large number of batters (19.9 K%) but the righty posted a 0.77 HR/9 rate, which indicates that, in the right situation, he could be a serviceable back-of-the-rotation arm.
The bullpen, which was embarrassingly bad in 2016, was expected to take at least a small step forward last year with the addition of Mark Melancon. Melancon gave the fans confidence by blowing a save on Opening Day, and eventually underwent surgery in September for a forearm injury. Hunter Strickland exhibited major control issues (the 10.8 BB% was by far the highest of his career), but he kept the ball in the yard more often than not. The 29-year-old struggled against lefties, but against right handed batters he was solid. Cory Gearrin also experienced problems with his control, posting his highest BB% (12.3) since 2013 when he was a Brave. After posting ERA- marks of 131 and 107 in his first two seasons with the Giants, Gearrin regressed heavily down to 48 a season ago. Guys like George Kontos and Kyle Crick were reliable for the most part, and Sam Dyson rebounded nicely after getting traded from the Rangers in early June.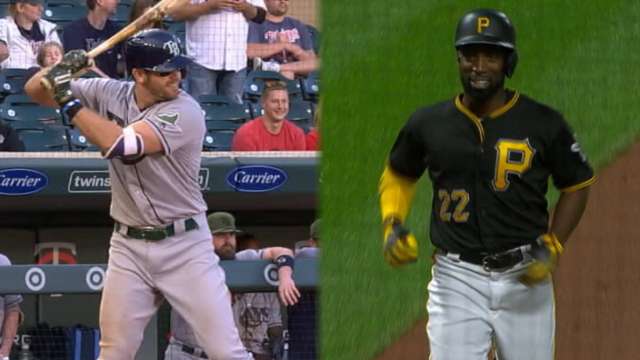 Offseason Recap
The Giants, perhaps realizing that their contention window is closing, were much more active this offseason than a year ago. They made two big trades, acquiring Evan Longoria from the Rays to address their third base issue and Andrew McCutchen from the Pirates to strengthen their outfield. It's unknown how much of an impact the two vets will have on the Giants in 2018. Longo is coming off of the worst offensive season of his career, finishing with a below average wRC+ (96) for the first time ever and hitting 20 homers just a season after clubbing 36. It doesn't help that AT&T Park is notoriously pitcher-friendly, so expecting Longoria to hit over 20 might not be realistic. He'll be a better option than what the Giants were trotting out at the hot corner for much of last season, but at the end of the day that might not be saying much.
When hitters can get away from PNC Park, that is usually a cause for celebration. In McCutchen's case, changing home ballparks might actually hurt him. A year after OPS'ing at an .849 clip and hitting 28 home runs, Cutch is going to have a difficult time matching those numbers as a Giant. He might provide a solid average, live in the 15-20 homer range, and finish with an above-average wRC+ for the 10th consecutive season, but expectations should definitely be tempered at least a little bit.
The biggest departure was one of their top prospects in Arroyo, who could have been a cheap source of offensive production for the next several seasons if he lived up to his potential. Crick was expendable, and Moore may have needed another change of scenery after the season he had.
All Additions: Evan Longoria, Andrew McCutchen, Josh Rutledge, Jose Valdez, Chase d'Arnuad, Austin Jackson, Gregor Blanco, Andres Blanco, Derek Holland, Tony Watson, Manny Parra
All Departures: Matt Moore, Kyle Crick, Christian Arroyo, Denard Span, Ryan Webb
2018 Outlook
Best Case: With their contention window closing, the Giants manage to play meaningful baseball in September again, eventually locking up one of the two wild card spots and moving on to an NLDS matchup. McCutchen carries a suspect outfield in his first season in the orange and black, Longoria proves the doubters wrong, and the rest of the returning lineup perform to the best of their abilities. The pitching staff experiences regression to the mean and performs well, and the bullpen finds some much needed consistency. Despite all of these positives, the Giants still don't have enough to catch the Dodgers in the NL West.
Worst Case: Longoria and Pence experience further decline, McCutchen struggles outside of Pittsburgh, Crawford proves that 2017 wasn't an outlier but instead the new norm, and Belt has issues returning from yet another concussion. The pitching staff falters yet again, and the bullpen is difficult to watch. The Giants are out of playoff contention by the end of July, and the front office has to figure out what to do with so many player-friendly deals on the payroll, especially since their ace is only signed through 2019.
PECOTA Projected Record: 83-79, 695 RS, 681 RA